Recommended Hardware
Grade of Bolt
Surface Finish
Nominal Size Inches
 Recommended ASTM Nut Grade & ANSI Style
Washer
Hex
Heavy Hex
F1554 Grade 36
Any
1/2 to 1-1/2
A563A
F436
1-5/8 to 4
A563A
F1554 Grade 55
Plain
1/2 to 1-1/2
A563A
F436
1-5/8 to 4
A563A
Galvanized
1/2 to 1-1/2
A563A
F436
1-5/8 to 4
F1554 Grade 105
Plain
1/2 to 1-1/2
A563D
F436
1-5/8 to 3
A563DH
Galvanized
1/2 to 1-1/2
A563DH
F436
1-5/8 to 3
A307 Grade A
Any
1/4 to 1-1/2
A563A
F436
>1-1/2 to 2
A563A
>2 to 4
A307 Grade B
Any
1/4 to 1-1/2
A563A
F436
>1-1/2 to 2
>2 to 4
A449
Plain
1/4 to 1-1/2
A563B
F436
>1-1/2 to 3
A563A
Galvanized
1/4 to 1-1/2
A563DH
F436
>1-1/2 to 3
A563DH
A354 Grade BC
Plain
1/4 to 1-1/2
A563C
F436
>1-1/2 to 4
Galvanized
1/4 to 1-1/2
A563DH
F436
>1-1/2 to 4
A354 Grade BD
Plain
1/4 to 1-1/2
A563DH
F436
>1-1/2 to 4
A193 Grade B7
Any
1/4 to 7
A194 2H or 4 or 7
F436
A193 Grade B8
All
A194 Grade 8
SS304
A193 Grade B8M
All
A194 Grade 8M
SS316
A320 Grade L7
Any
1/4 to 2-1/2
A194 Grade 4 or 7
F436
A320 Grade L43
Any
1/4 to 4
A194 Grade 4 or 7
F436
A320 Grade B8
All
A194 Grade 8
SS304
A320 Grade B8M
All
A194 Grade 8M
SS316
F593
All
F594
SS304 or SS316
Nuts
ASTM A563 Hex and Heavy Hex Nuts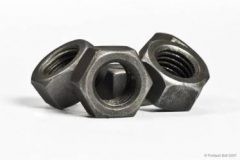 The ASTM A563 specification covers the chemical and mechanical requirements for carbon and alloy steel nuts. According to the A563 specification, "The requirements for any grade of nut may, at the supplier's option, and with notice to the purchaser, be fulfilled by furnishing nuts of one of the stronger grades specified herein unless such a substitution is barred in the inquiry and purchase order". This is important because some nut grades are not readily available in certain sizes and finishes. Additionally, the specification allows for the substitution of ASTM A194 grade 2H nuts in lieu of A563 grade DH nuts due to the lack of availability of grade DH nuts in nominal sizes 3/4″ and larger. Hot-dip galvanized nuts must be tapped oversize to allow for the added thickness of the zinc on the threads of the externally threaded fastener.
A194 Heavy Hex Nuts
The ASTM A194 specification covers carbon, alloy and stainless steel nuts intended for use in high-pressure and/or high-temperature service. Unless otherwise specified, the American National Standard Heavy Hex Series (ANSI B 18.2.2) shall be used. Nuts up to and including 1-inch nominal size shall be UNC Series Class 2B fit. Nuts over 1-inch nominal size shall be either UNC Series Class 2B fit or 8 UN Series Class 2B fit. High strength ASTM A194 grade 2H nuts are common in the marketplace and are often substituted for ASTM A563 grade DH nuts due to the limited availability of DH nuts in certain diameters and finishes.
ASTM F594 Hex Nuts
ASTM F594 covers the chemical and mechanical requirements for stainless steel nuts in diameters ranging from 1/4″ to 1-1/2″ inclusive and are used with fasteners conforming to ASTM F593. These nuts are for general purpose applications and are available in seven alloy groups. The two most common are Alloy Group 1 (type 304 stainless) and Alloy Group 2 (type 316 stainless).
Washers
ASTM F436
These washers are through hardened or carburized to add strength and are the recommended washer for all anchor rods.
Plates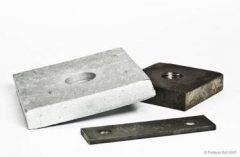 Anchor rods are often used with square and rectangular plates. These can be used on either end, but they are most commonly used on the embedded end. This creates a larger bearing surface to reduce the risk of the rod pulling out of the foundation. The two most common grades of square plates are ASTM A36 and A572 Grade 50. Large plates with multiple holes can also be used as templates to provide proper spacing of the anchor rods.
Anchor Sleeves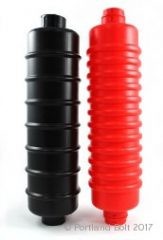 Anchor sleeves are often used as a way of assisting in the alignment of an anchor rod so that the structure or equipment can be installed with ease. Anchor sleeves create a cavity in the concrete where the anchor bolt can be adjusted in the case that an anchor bolt is slightly out of alignment and needs to be adjusted to fit the equipment. After aligned correctly, the cavity is then filled with grout. An engineer may also specify a custom sleeve that consists of a steel pipe that is welded to an anchor rod or anchor rod embed plate, which are more of a custom item.
Hex Coupling Nuts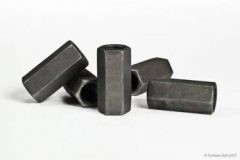 Hex coupling nuts have right hand threads and are used to connect two threaded fasteners. A standard coupling nut length is three times the rod diameter. Some coupling nuts that are mass-produced are slightly shorter however, longer coupling nuts can be custom made. A common use for coupling nuts is when an anchor rod has been set too low, a way to extend them would be to assemble a coupling nut on the projecting end of the set anchor rod and install a rod into the opposite end of the coupling nut. Typically, the extending rod used is fully threaded and would be the same ASTM grade as the set anchor rod.
Although there isn't any published information specifying what grade of coupling nut should be used, it is common practice to use a coupling nut that is specified to the same grade as the compatible nut, or higher. In other words, if the embedded anchor rod is F1554 Grade 36, an A563A hex coupling nut should work, however A563DH or A194 2H heavy hex coupling nuts should be an acceptable substitute, assuming they aren't being welded. Either way, it is always a good idea to consult an engineer in this type of scenario.