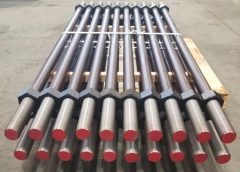 Anchor rods are threaded fasteners embedded in concrete foundations with the purpose of supporting light poles, traffic signal poles, structural steel columns, highway sign structures, steel towers, industrial equipment, and many other structures. Anchor rods can be cast-in-place or post-installed in an existing concrete slab. All anchor rods possess an element such as a nut, plate, nut with plate, forged head, epoxy with threaded rod, or swedging that anchors the rod in the concrete foundation. A threaded end projects from the concrete and is used with nuts and washers to anchor the structure to the foundation.
Anchor rods are also referred to as anchor bolts or foundation bolts. Anchor rods are readily available as stock items or manufactured to meet a variety of ASTM grades and configurations depending on the application.
This website only covers straight anchor rods with threads. For 90⁰ bent anchor bolts, please refer to www.portlandbolt.com.
There are a variety of ASTM specifications that apply to anchor rods. Although F1554 is the most commonly-used anchor rod grade, many other ASTM specifications can be used for anchor rods.
Anchor rods can be manufactured in a variety of configurations, all of which are characterized by a straight rod as opposed to a 90⁰ bent anchor bolt. Anchor rods that are set into a concrete foundation will need a nut, forged bolt head, and/or plate on the embedded end to prevent the anchor rod from pulling out of the concrete. All thread rod and swedged rods are often used with epoxy and installed in preexisting concrete foundations.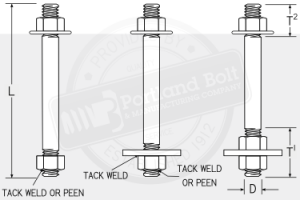 Anchor rods are manufactured by cutting steel round bar to length, applying threads to one or both ends, and sometimes adding labor operations to the embedded end that include forging, swedging, or welding.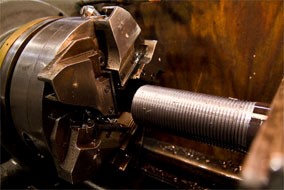 Anchor rods are supplied with nuts and washers for the projecting end and sometimes for the embedded end. Other accessories include anchor plates, plastic and steel anchor sleeves, and coupling nuts.
Recommended Nuts and Washers
Other Accessories

Plates
Anchor Sleeves
Coupling Nuts